08.10.2018
Happy Birthday to me!
This year's celebration was far exceed from what I have had expected.I thought it was just a dinner with a view. (We normally only spend on fancy dinner on special occasions.)
Mr Tseung was acting very secretive. He didn't want to reveal the location where we were going but he kept telling me that how disappointed he would be if it is going to rain on that day. So the only clue I know was, dinner will be at outdoor.
He brought me to Harbour Front then Sentosa and walking to the direction to Sea Aquarium. So my first guess was dinner in Sea Aquarium? 
Tadahhhh!
It was sunset sailing dinner on a luxury tall ship, Royal Albatross.
I was really surprise that he brought me here for dinner! I knew about this place because we came here to practice longboard right in front of the gate of Adventure Cove Theme Park till midnight. He thought that I wouldn't notice there was a ship at the corner. HAHA! But I still never expect he would bring me here.
After the registration, we were required to remove our shoes before boarding the cruise. We were actually very late from the initial time we planned to arrive. But we were very lucky that we still able to get the last good seat! 
We were welcomed with their compliment welcome drink, caramel syrup with ginger ale mock tail and some small breads. 
Royal Albatross set sail at 5 pm.
The weather was surprisingly good on that evening! (Buddha heard our prayers!)  The skies turned blue from grey!
The sailing was accompanied with live singer. Listening to her voice under the breeze was very enjoyable.
Evening time on Royal Albatross
 We were served with stater,
Mixed fruit and potato salad.
Main Course
Mini baked potato, Mashed potato, Seafood with mussels and prawn, Chicken sausage, Beef and Turkey? (Because it tasted like turkey)
I was already very full. HAHA
Dessert.
Mango Pudding with raspberry sauce, Chocolate brownie, Lemon Meringue tart and Ice cream with bread buttering.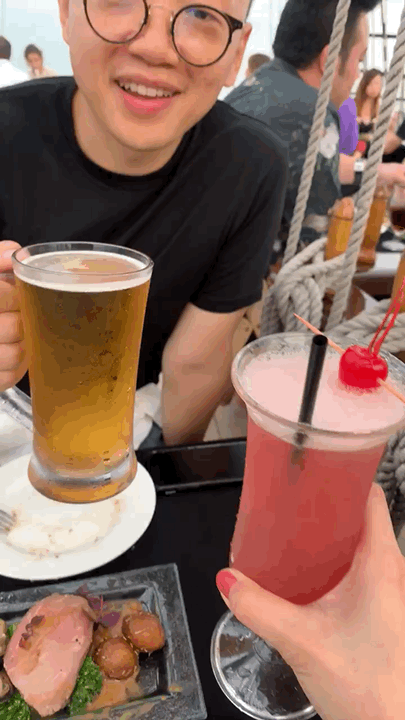 CHEERS!!!
蔣公 saying Happy Birthday. haha!
 Skies turned darker and the atmosphere became more romantic when the neon lights were lighted up!
When I thought it was the last course of the day, all of the sudden, one of the crew started to gave a short speech. Corrinne May's song < The birthday song> played along and they named out the name of October babies and couples celebrating their anniversaries.
And my name was called.
(Sorry for the pinky photo quality. Should have tried flash light shot instead.)
We were back at dock at 7.30pm
You are still able to stay onboard to enjoy the view with some more drinks (additional charges applied)
It was truly an amazing experience and romantic night! 
You should add Royal Albatross to your bucket list for such special occasions!
蔣公,thank you so much for bringing me here!
ROYAL ALBATROSS
Website: https://www.tallship.com.sg/
Location: 8 Sentosa Gateway, Sentosa Island, Singapore 098269
As Christmas and New Year are around the corner, take this opportunity to create a memorable memory with your loved ones!
Royal Albatross also hold wedding solemnisation, ROM Ceremony and set sail for weddings!