A trip that I had to settled my 'business' in the public.
A day without shower.
A cold and windy night on the mountain.
A night stay in the tent on an ACTIVE VOLCANO
&
THE MOST BEAUTIFUL SUNRISE I HAD EVER SEEN IN MY LIFE.
#thejellycouple visited Bali, Indonesia last year in May. (Full itinerary will be posted in another post!)
One of the highlights of the trip was
Mount Batur 2D1N camping tour.
I was so excited because WE ARE GOING TO STAY ON THE VOLCANO!
Our driver picked us up at our hotel on time. The tour included a visit to coffee plantation where we can try out the signature coffee in Bali, Kopi Luwak as known as civet coffee. (Of course for advertising and selling purposes.)
We were introduced to MANY coffee types. It made us worried that we cannot sleep well on that night because of the caffeines. haha.
Timeline:
1pm: Driver pick up at our hotel
1.45pm: Arrived coffee plantation
2.30pm: Depart to meeting point (to meet the tour guide)
3.30pm: THE JOURNEY BEGAN
5.30pm: We reached the peak of Mount Batur
Sunset on Mount Batur
Dinner prepared by tour guide and porter.
8pm: Back to tent after dinner
Next day
6.20am: Sunrise
8am: Pack up for hiking down
9am: Arrived the base of the mountain.
Journey from Mount Batur back to Ubud: 1 hour 45 Minutes
The start of the hike.
2nd pit stop and the route got tough
AND WE MADE IT!
Total spending time to the peak,
Elevation of Mount Batur,1717M took us 1 hour 55 minutes
Sunset on Mount Batur but it was covered by the clouds.
Mount Batur is an active volcano in Bali, Indonesia. Last eruption was 1999-2000.
Skies turned dark at 6.30pm. There was no electricity on the mountain and we were the only 2 couples (another couple from another tour) on the mountain. It made less than 10 people on the mountain for that night.
We were so touched that Agit and his friend had to cook us dinner in the dark with a small light shined from a handy small torch light. Agit shared his experiences as a tour guide in Mount Batur and Mount Agung. (Unfortunately Mount Agung recently erupted again and it has been very active and dangerous. So we do not have the chance to hike Mount Agung.) My partner and I were so touched and inspired by his positive attitude towards his job and life. We were so grateful that we got him as our tour guide!
Stay for the night! TENT! I was very excited about it because it is gonna be the first time I can stay in a tent in outdoor, on a volcano!
We did not get to shower, not even washing our faces. We had to find a good spot to pee in the wild. Sleeping under a cold and windy night with a lot of noises outside the tent which was quite terrifying. Because I don't know if the noise was caused by the wind which made our tent very noisy or there was actually have other living things outside our tent.
But I really enjoyed the whole hiking process and we had bed time talk in the quiet night. The sky was so beautiful. It was the first time I had ever seen so many stars hanging in the sky in front of my eyes. I don't know how to capture it on my camera because my iPhone 7 Plus couldn't capture it. But I know my memory captured it. The beauty cannot never forget.
The sky at 5.40 am.
I woke up at 4am before my alarm set at 4.30am. I was awaken by the dog outside our tent. He was whining when I responded to him. I was in the urgent to pee too. But I didn't really want to wake my partner up. By the time we stepped out from our tent, the sky was already quite bright and we were surrounded by many hikers. Everyone was waiting to see the sunrise!
Literally breakfast with an awesome view!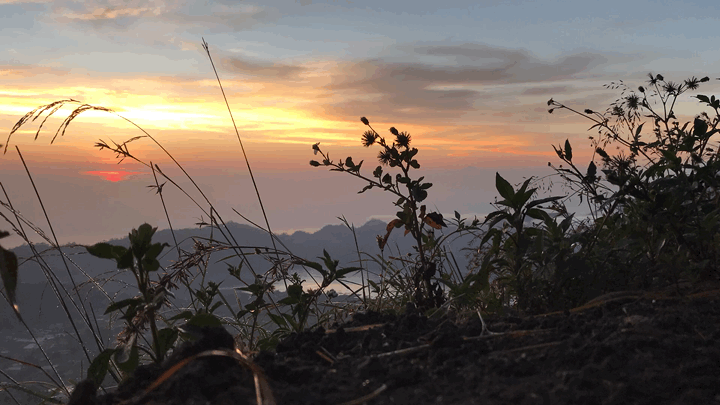 Our first sunrise together.
! It was so beautiful. I am truly a blessed girl.
Last few pictures before we had to moved out from our tent.
I have to say it was an awesome experience!
With our awesome tour guide, Agit!
He brought us here, his friend and him cooked us dinner and prepared breakfast for us and he took awesome photos!
Looking over to the highest mountain/ volcano in Bali, Mount Agung.
We met some new friends too!
Kobitos say Hi!
Journey back to the base of the mountain:
1 Hour
It was truly a meaningful and memorable trip to us. We brought our hiking experience to the next level.
Staying overnight at outdoor in the wild with no electricity, no tap water, no toilet, slept without shower were actually something that I am actually fine with it.
I am a tough princess like Mulan!
Level of Difficulty: 2.5/5
Hiking Mount Batur requires certain amount of stamina and strengths to conquer. For a person who do not exercise much, probably need a partner who provides positive encouragements and motivations. The first hour was a normal hike up but the last 1 hour of the hike is quite rocky and challenging. Of course you are allowed to rest at anytime, but your mindset is very important too.
Things to take note when hiking Mount Batur.
Mount Batur is an active volcano, it is not a normal mountain.
Here are some tips for you to prepare for the trip!
1. Brace yourself in the cold weather!
Volcanic gases released from the volcano are HOT! Very HOT! But volcanos are often high in elevation, it is chilly and windy up there. It was about 13 Degree Celsius on the night we stayed on the mountain. On your way up, you might sweat, so have an outfit with jacket and long pants are needed to protect yourself from the unpredictable weather.
2. It is not a walk in the park!
The first hour of the hike was ascending paved roadside hill. But the second half, especially after the 3rd pitstop, HERE COMES THE REAL CHALLENGE!
We were climbing up the steep and loose terrain around the volcanic rocks. We stopped a few times to catch some breather along the way. Proper hiking boots is a must especially for non-hikers. It is to protect your ankles!
Hiking poles are also useful for the trip too. It was provided by my tour guide.
3. Recharge yourself before the hike.
If you are taking the sunrise tour, pick up will be around 1am (depending on the area you are staying). You will have to start hiking at 3am to catch the sunrise. Rest well before the hike is very important! and also your equipments. =P
4. It is OK to be a Camel.
There is NO water point on the mountain. Bring at least 1.5L of water when hiking. Your tour guide will prepare some water for you too. Take it! Because you don't know when you will need it. You will need to wash your hand after peep right~?
5. Head up for lights!